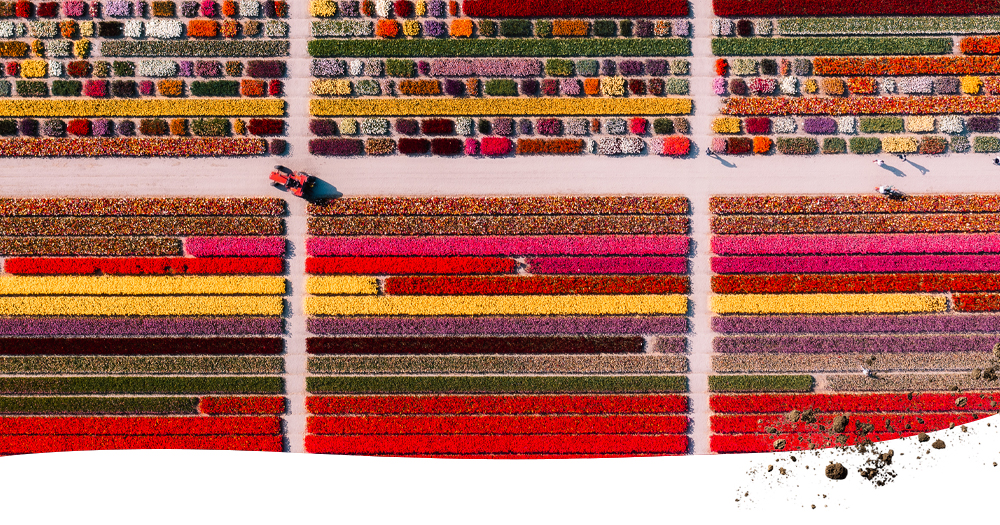 Colour palette in spring when all the tulips bloom.
The tulip develops underground through its bulb. The bulb is an accumulated system of leaves and stems located below ground. The bulb also contains the seed nodes from which the flower buds grow. When the bulb is large enough, it will produce a flower stem that rises above the ground and displays the flowers. The bulb will also produce leaves that grow above ground and support the flower stem. The bulb will continue to grow and develop until the tulip is fully grown and ready to flower. Now the bulb is still tucked far away under a thick bed of straw, this protects the bulb from the cold and drifting sand.



The show garden in winter, it will be a while before the tulips come out.
In winter, it is still too cold for the tulips. When the weather warms up, the tulips will carefully emerge from the ground and turn the fields green first. By the end of March, the first (early) varieties will show their heads. Soon the rest will follow. Because there are early and late varieties of tulips, there will be a true palette of colours to see until mid-May. When the earlier tulips finish flowering, the next ones will appear.